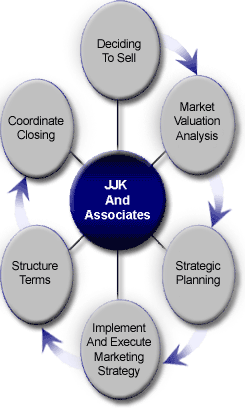 The Six Critical Phases to Selling
Your Business
Phase I - Deciding to Sell
The initial phase sounds simple, but deciding to sell your business is the key component to a successful transfer and smooth transition. A business owner must come to a definitive decision emotionally and financially to part with their business before they begin the process of selling. Until a business owner truly decides to sell, the process cannot and should not begin. All of our clients complete an Exit Readiness Assessment that gives them guidance with their decision to sell
Phase II - Market Valuation Analysis
Once you've decided to sell, a market valuation is essential. Business owners traditionally use tax returns or financial statements as the basis for presenting their business. While this is effective for tax purposes, it does not reflect years of hard work in accumulating assets. The goodwill or intangible value is not a consideration for income tax purposes, and therefore not addressed in financial statements. In addition to goodwill, certain types of intangible property include the workforce, information base, know-how, customers, suppliers, systems in place producing cash flow, proprietary rights (such as; patents, copyrights, trade marks), covenant not to compete and similar items.
Recasting tax returns and financial statements must be performed to reflect the true economic performance and identify cash flow. An independent objective valuation establishes credibility with buyers and gives sellers a basis for determining price and terms. In addition, we recommend that sellers consider equipment and real estate appraisals where applicable.
Phase III - Strategic Planning
Once a market valuation analysis has been prepared, it is important to understand the consequences of transferring the business. Business succession and asset protection planning should be an integral part of your strategy. Whether you're planning an asset sale, management buyout, or a recapitalization, the goals should include maximizing long-term value of the business, reducing tax liability, and structuring asset ownership to ensure the estate plan.
In addition, we recommend that sellers engage in preliminary due diligence of their business. By bringing in experts who conduct due diligence on your business on your behalf, you can eliminate potential obstacles and road blocks in advance.
Phase IV - Marketing
Proactively marketing your business on a confidential basis nationally is the key to achieving Fair Market Value. By creating, implementing, and executing time-tested street-proven marketing strategies, JJK & Associateswill prepare a "confidential memorandum" identify, screen, and present your business to qualified buyers. Our proven methodologies will ensure that when selling your business, you will receive the highest price with the most favorable terms in the shortest timeframe possible.
Phase V - Structuring Terms
The financial structure of a transaction can consist of several components. In many cases, there is a combination of an equity down payment (the buyer's investment), seller financing with an earn-out over a period of time ranging from months to years, and some type of commercial financing. Lending sources include private equity groups, venture capital funding, SBA lenders and regular bank financing. In most cases, owner financing or an earn-out is required to achieve maximum value. If a buyer cannot pay for the business out of its own internally generated cash flow, the justification for acquisition becomes much more difficult. JJK & Associateshas experience identifying and bringing funding sources to the transaction as well as structuring all aspects of the deal.
Phase VI - Closing
Handling the negotiations, coordinating multiple parties in all disciplines, facilitating the document processing procedures, and post closing follow-up demands time and experience. Over the years, JJK & Associates has developed the network of contacts to ensure a smooth and efficient transition through post closing. Although the six critical phases remain fairly consistent, each transaction is as unique as the seller, the buyer, and the business being transferred.